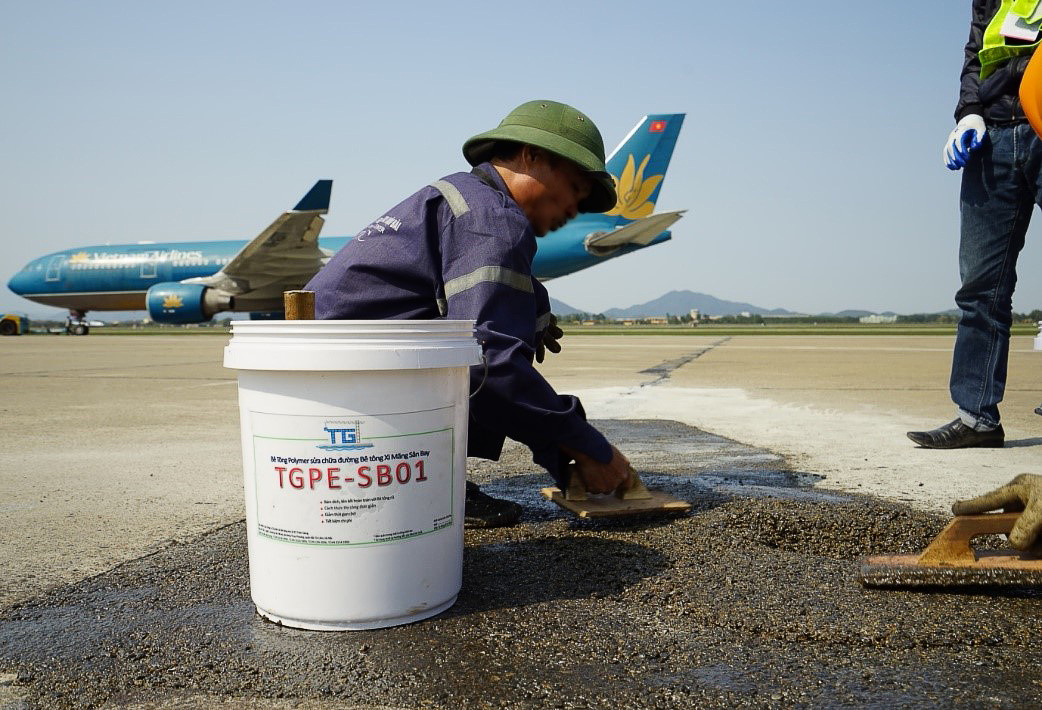 ThienGiang Polymer concrete – TGPE-SB01
Polymer Concrete TGPE-SB01 (abbreviated as Concrete SB 01) is a special type of high early strength concrete (2 hours after construction) and has the ability to adhere almost completely to old cement concrete, especially suitable for works that need to be constructed, repaired, and put into use in a very short time. Products have been tested by Laboratory and construction inspection LAS-XD.125 of the National University of Civil Engineering, LAS-XD.201 of Transport Science and Technology Institute. The main criteria are as follows:
| | |
| --- | --- |
| Concrete strength | 42 MPa after 118 minutes |
| Yield strength | ≥ 11 Mpa |
| Abrasion resistance | 0,08 g/cm2 |
| Adhesive strength with Cement concrete | ≥ 0,6 MPa |
The product has been approved by the Director of Noi Bai International Airport to use to repair rolling lines, aprons and runways (CHCs) with the following main advantages:
Very good adhesion to old cement concrete;
The patch filling position is put into use 2 hours after construction;
Simple and convenient construction method for repairing and repairing purposes;
Maintenance-free Polymer Concrete TGPE-SB01;
The product has a brownish color similar to cement concrete;
In dry storage conditions, components of Polymer Polymer TGPE-SB01 can be stored within 12 months from the date of manufacture before being used.
---
Some pictures of TGPE-SB01 Polymer Concrete product at Noi Bai International Airport: